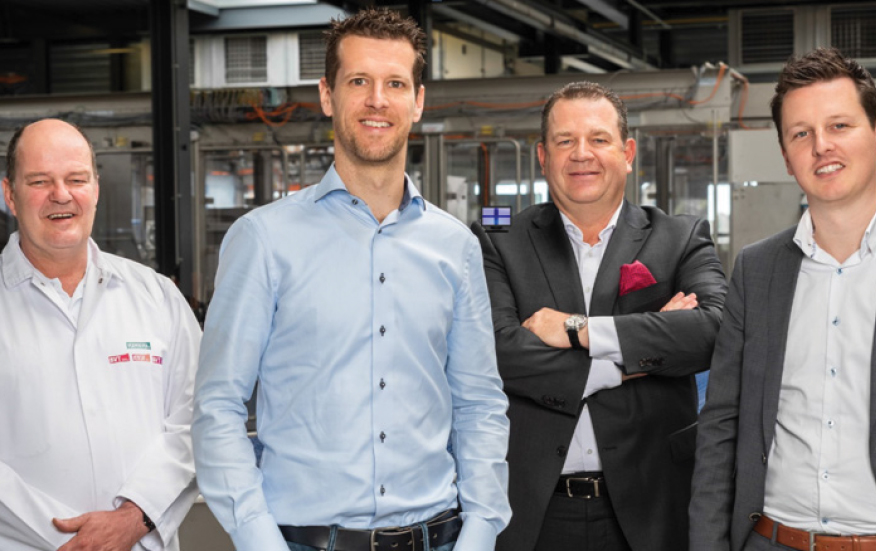 With the introduction of the V-Team (Vacuum Team) as part of the Vacuum Cooling & Baking Company, the Dutch Verhoeven Family of Companies emphasises its position as market leader in the global market for Vacuum Cooling & Baking in the bakery segment. The team will give a positive impulse to the sales growth by Verhoeven's subsidiaries BVT and NewCap and is preparing steps for the wider acceptance of the technology in the market.
'Mr Vacuum' Patrick Duss as Pioneering Ambassador
The current team consists of four specialists and will be further expanded in the coming months. The proud Ambassador of the team is none other than Patrick Duss, known as Mr Vacuum' and founder of the Swiss Aston Foods. This company was one of the first to introduce Vacuum Cooling batch chambers all over the world. The Vacuum Cooling & Baking Company has recently taken over the trademark rights and intellectual property of Aston Foods.
The other members of the V-team are Uli Lauck, Rogier Vos, and Martijn van den Broek. Lauck has decades of experience in the profession of baker and held various positions. For example, he bore final responsibility for Research & Development at TTZ (Technology Transfer Zentrum) in Bremerhaven. The Group Product Management consists of Martijn van den Broek (Technical Group Product Manager) and Rogier Vos (Commercial Group Product Manager). Both specialists represent the next generation within the company, but have gained years of experience in the Verhoeven organisation. They have been active in Vacuum Cooling & Baking since five years.
Leadership in Technological Knowledge
«We are able to serve and advise all market segments, and have a continuous R&D for the further development of our product portfolio. But to achieve the best results with this superior technique, it is paramount to emphasise the knowledge of process technology. In the past years, we have gained experience that has led to a solid market leadership, also in terms of knowledge. We are happy to share this knowledge with our customers and anyone interested in the contribution this new technique and technology can offer to the market. To realise this, several initiatives are being developed in the short term.» says Hans Stoop, general director of the Verhoeven Family of Companies.
One of the initiatives is the launch of the Vacuum Cooling & Baking Academy and Members Club. Details on this launch will be announced shortly.
For further information, please contact:
Vacuum Cooling & Baking Company
René van Ass
info@Vacuumcooling.com